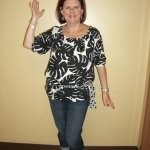 I can't believe it's been 18 days since I first met with Lorie for my first appointment. I have a renewed sense of direction and especially felt it after New Years as I knew all of the goodies, holiday treats and holiday events were done!
I have continued to cook some yummy items including breakfast peanut butter muffins (only 150 calories each) packed with protein and a delicious split pea soup. I ventured in to some new territory by using cauliflower and parsnips to make a cream sauce. Then I decided to add a little unsalted tomato sauce to make a yummy creamy tomato sauce to go with my whole wheat pasta and chicken breast.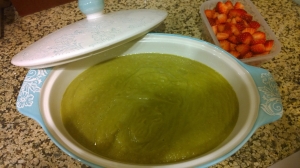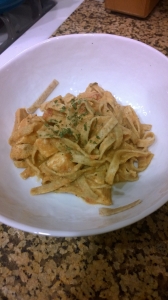 Tomorrow I'm going to make spicy black bean burgers. Having food prepared and available when I'm hungry has made a HUGE difference for me. From the Coach: Eating good food requires planning and strategizing. But it feels so much better to be in control of what you eat!
I feel less stressed about what I'm going to eat and feel so much better physically and mentally after I eat nutritious food. It seems so simple and in theory it is; however, I do have to say that cooking (although I enjoy it) and shopping for ingredients is for sure a commitment and a form of its own exercise.
I blew out my goal this past week for exercise and I feel like I'm truly looking forward to what I can accomplish. From the Coach: Helane is getting back into a routine of exercising and sees the benefits. I've been making plans with all of my friends who have an interest in walking/hiking/exercising, which also helps make it more fun.
I'm planning next week's meals…hmmm…what will be on the menu? Maybe some peanut butter/oatmeal granola bars, grilled salmon, and maybe some lemon chicken…stay tuned!
This is truly my second full week of cooking and prepping and trying some new recipes. This week I added to my breakfast repertoire with some easy microwave no cook Peanut Butter Granola Bars. I substituted date paste for brown sugar and they are ridiculously good and simple to make. Date paste is the BEST substitute for sugar and you'd never know there was any kind of date in your food (as I don't care for dates in their original form but made in to a paste…perfect!). I keep it in my fridge and it lasts several months, although I don't think it will stay that long any more with all the cooking I'm doing. From the Coach: Helane has made me her "taste tester" and I love it!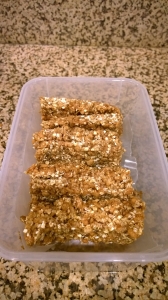 These will definitely be part of my every day cooking in the future as regular granola bars have so much junk and unknown products in them. Everyone thinks they are so healthy but most have tons of sugar. I initially thought that I would do one big shop during the week but I am finding I have too much food – need to figure out how to re-adjust. From the Coach: Helane is experimenting with a cooking schedule. Sometimes your first approach doesn't work. Just keep trying!
Back to work and back from my holiday vacation, so the true test of balance and commitment begins!