I've always been annoyed by the phrase "giving back." Before I found my calling as a Wellness Coach, I practiced law for 23 years, re-careered myself as an aging specialist, and then worked for non-profit for 6 years. People presumptively characterized my work for the non-profit as "giving back." My response was that I had not "stolen" anything when I worked 12 hour days solving my clients' legal problems. In fact, working for the non-profit felt selfish; it made me feel good to help others.
My Dad would deny this, but he was a wonderful parent. His love compensated for my mother's total disinterest in raising her five children. Imagine going bra shopping with your Dad! I did. I have vivid memories of climbing onto the toe boxes of my Dad's Florsheims when he returned from work and feeling loved. Led by my Dad, my siblings and I crunched fallen acorns under our feet while strolling through Georgetown munching on a "walk apple." Dad even went to bat for me when the nuns complained that I exhibited a bad attitude in high school. He simply pointed out, in his curt fashion, that I was a straight "A" student. The nuns never called him in again. Finances were so tight that my Dad borrowed rent money from my younger brother, who saved every cent he ever laid eyes on. Of necessity, my Dad became an expert in the art of paying down one credit by borrowing on a dozen others.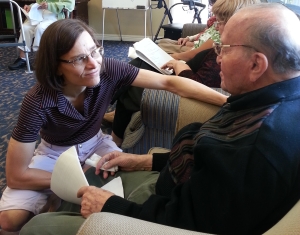 I've cared for my Dad for over a dozen years now and he's still going strong at 95!  Since he's been afflicted with vascular dementia, he's become totally self-absorbed. I remember, years ago, when I told him I was going into the hospital for a hysterectomy, his response was "Who will care for me if you're in the hospital?" On a gut level, this threw me for a loop, but then my logical brain kicked in and I reminded myself that the unfeeling response was the result of Dad's brain disease.
It is undeniably difficult caring for a loved one with dementia. But, the reward for me is that it allows me to "give back." And, even if my Dad lives to be 100, I'll never be able to return all the love he's given me.
Lorie Eber, JD is a trained Wellness Coach, Certified Personal Trainer, and Gerontologist, who teaches Gerontology at Coastline Community College. Lorie is also an author and a writer, as well as a Keynote Speaker on Living a Healthy Lifestyle, Healthy Aging and Elder Care issues. Visit her website: www.LorieEberWellnessCoaching.com.